GYMNASTICS
Tabytha Hofheins won two golds, a silver and a bronze to become Bermuda's most successful gymnast at the 2014 USA IGC World Championships.
---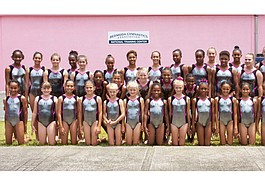 The Bermuda Gymnastics Association team continues its stellar showing in Orlando at the 2014 USAIGC World Championships.
---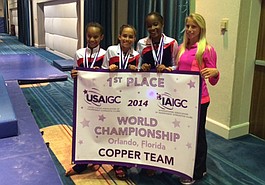 On Wednesday night, the Bermuda Copper level gymnastics team won the first-place team banner in the 2014 USAIGC World Championship in Orlando, Florida.
---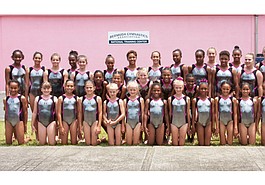 A total of 29 gymnasts will travel to Orlando, Florida to compete in the USAIGC World Gymnastics Championships from today (Tuesday) until July 3.
---
The Bermuda Olympic Association on Friday announced the names of the athletes who will represent Bermuda at the XX Commonwealth Games in Glasgow, Scotland.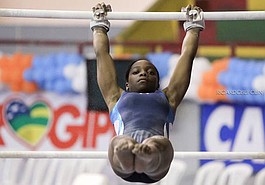 Gymnasts Clara James and Danielle Wall wrapped up their Junior Pan American Championship on Saturday in Aracaju, Brazil.
---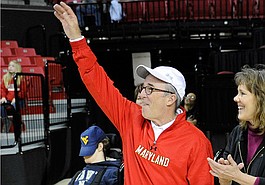 Head Coach and Program Director Robert "Duke" Nelligan was invited back to the University of Maryland this past weekend to be honored for his contributions.
---
The Bermuda Gymnastics Association have announced their 11-strong boys' team that will attend the Mid Atlantic Gymnastics Invitational in Maryland.
---
Bermuda Gymnastics Association will host the Federation of International Gymnastics Level 1 Men's and Women's Artistic Academy coaching course from Saturday February 15-22.
---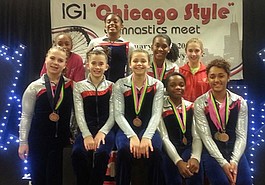 Gabby Vincent stole the show for the Bermuda Gymnastics Association team at the Chicago Style Invitational at the weekend.
Bermuda Gymnastics Association's Zantae Dill, Sydney Mason, Gabby Vincent and Morgan Beckles warned rival nations they are not going to the Commonwealth Games 'for a vacation'.
---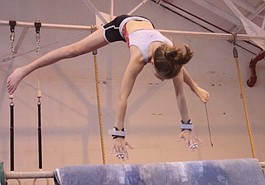 Nine Bermuda gymnasts will attend the ICI 'Chicago Style' Gymnastics Meet in Chicago on Saturday.
---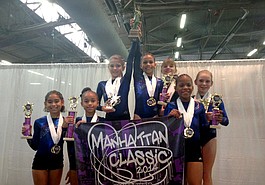 Jezhari Talbot struck gold in New York with four victories in the standout performance for the Bermuda Gymnastics team at the 2014 Manhattan Classic at the weekend.
---
The Bermuda Gymnastics Association will send 19 athletes to the Manhattan Classic Invitational in New York City this weekend.
---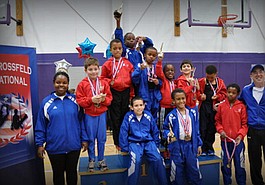 The boys national gymnastics team competed in the Abie Grossfeld Invitational in Bridgeport, CT.
The Bermuda Sun bids farewell...
JUL 30, 2014: It marked the end of an era as our printers and collators produced the very last edition of the Bermuda Sun.