BERMEMES EXCLUSIVE
The popular yet mysterious team at Bermemes have finally outed themselves two days before their first anniversary.
---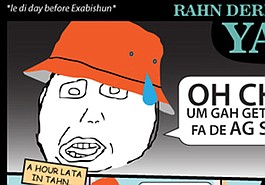 The Bermuda Sun newspaper will be publishing exclusive Bermemes cartoons every Friday and posting them online every Monday.
---
Popular cartoonists/satirists BerMemes encapsulate Bermuda life with all its traditions and quirks. Friday's Sun Exclusively interviews their popular characters Derpuntae.
---
The Bermuda Sun bids farewell...
JUL 30, 2014: It marked the end of an era as our printers and collators produced the very last edition of the Bermuda Sun.