June 6, 2014 at 12:05 a.m.
Boko Haram has 'brazenly violated Islamic teachings'
By forcing the girls to accept Islam they have broken a clear commandment of the Quran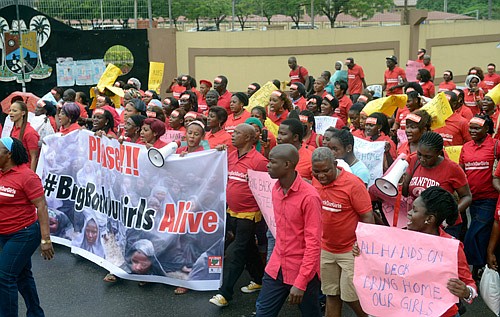 ---
Nigeria has been witnessing increasing conflict between government and rebel forces in the recent times. This conflict took an awfully barbaric turn when the rebel group, Boko Haram, decided to use children as pawns. 
Boko Haram rebels have not only destroyed numerous schools but also ruthlessly murdered 59 schoolboys in February. In May, these terrorists shocked the world again by abducting around 200 schoolgirls. 
Boko Haram views the acquirement of secular education as an unforgivable sin, a sin which demands punishment at all cost. 
Forced to accept Islam
Not only did they abduct these young schoolgirls, but also allegedly forced them to accept Islam and threatened to marry them without their consent or sell them off to prostitution. These girls have not been rescued yet. 
The official name of the Boko Haram is Jama'atu Ahlis Sunna Lidda'awati wal-jihad, which means 'People Committed to the Propagation of the Prophet's Teachings and Jihad'. 
Boko Haram claims to uphold the teachings of the Holy Prophet Muhammad (pbuh) and of the Holy Quran. Ironically, it does so by openly and audaciously violating Islamic teachings regarding compulsion in religion, women and education.
By forcing these girls to accept Islam, Boko Haram has violated the clear commandment of the Holy Quran (Ch 2: v 257) which says: 'There is no compulsion in religion". 
By abducting and detaining these young girls and threatening to force them into marriage or prostitution they have violated the Holy Quran (Ch 4: v 20) which explicitly declares: "It is not lawful for you to inherit women against their will; nor should you detain them wrongfully". 
'Seek knowledge'
Regarding education, the Holy Prophet Muhammad (pbuh) declared, "Seek knowledge even if you must travel to China; It is the duty of every Muslim male and every Muslim female to attain education". 
Islam has encouraged both religious and secular education. Indeed, the world's first degree-granting university, the University of al-Qarawiyyin, was founded by an African Muslim woman, Fatimah-al- Fihri in 859. Alongside religious studies, the university also offered courses in medicine, astronomy and mathematics.
The Ahmadiyya Muslim Community has always stressed the value of education (religious and secular) and encouraged its members, men and women, to advance in knowledge so they can contribute positively to the society. 
In a recent address to Muslim British youth, the Spiritual Head of the Community, Hazrat Mirza Masroor Ahmad, emphasized the importance of both religious and secular education.
Regarding the need for religious education, he said: 'The Holy Quran throws light upon science, history, economics, and so much more. It teaches us about human rights — such as the rights of women, the rights of the poor and deprived and the rights of the child. 
The Holy Quran educates us about family matters and about fulfilling the rights of one another. In truth, all types of knowledge are contained within the Holy Quran." 
His Holiness further encouraged them to excel in secular education: "Do not waste these golden educational opportunities, but instead grasp them and seek to achieve excellence in your chosen fields of interest — whether it is science or other subjects."
Academic rewards
Every year, His Holiness recognizes and rewards those who have excelled in their academic fields. This award ceremony takes place during the annual three-day convention held by the Community in England. 
This event is attended by nearly 30,000 people from all over the world. In an effort to promote education, the Community has built over 500 schools, many in underdeveloped countries, offering free secular education to Muslim and non-Muslim girls and boys. 
His Holiness himself spent six years in Ghana where he established two secondary schools in the most deprived areas of Salaga and Essarkyir. A documentary about these schools can be found on youtube: 'Life of Hazrat Mirza Masroor Ahmad in Ghana'. Without doubt, Boko Haram has brazenly violated Islamic teachings, despite their absurd claim that Islam motivates their actions. 
His Holiness has rightly said in a gathering of dignitaries in Singapore: "Islam teaches that each and every child, no matter his or her background, should be provided a proper education so that they can develop into skilled and truly beneficial members of society." 
Shabnam Jheengoor, Ahmadiyya Muslim Community Bermuda
---
The Bermuda Sun bids farewell...
JUL 30, 2014: It marked the end of an era as our printers and collators produced the very last edition of the Bermuda Sun.