July 30, 2014 at 11:14 a.m.
Teams behind Bermuda as venue
America's Cup entries meet with the Defender Team USA to discuss race future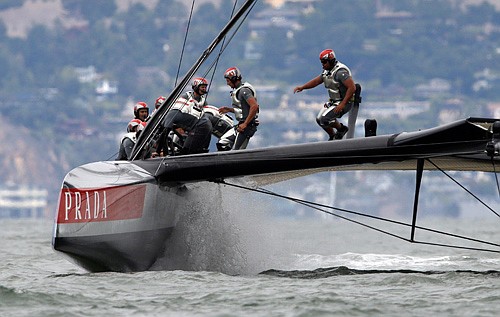 ---
Four syndicates said they will support Bermuda or San Diego, whichever one is chosen as the host for the 2017 America's Cup.
Italy's Team Luna Rossa issued a statement on behalf of itself, Artemis Racing, Ben Ainslie Racing and Team France. 
Noticeably absent from that list was 2013 finalist Emirates team New Zealand, who has been critical of the protocol issued by the Defender Oracle Team USA.
The statement read the four teams, along with the yacht clubs they represent, "confirm their full support to the event, regardless of the host venue that will be selected".
The statement of support comes after a week in which the challengers criticized Bermuda and San Diego as the final two choices as a venue and Team Australia officially withdrew as the Challenger of Record. 
This allows Oracle director to negotiate with both Bermuda and San Diego, knowing the four teams intend to compete for the 2017 America's Cup regardless of which venue is chosen. Along those lines, there will be another meeting this week in London with the potential challengers — the official entry deadline is August 8 — to discuss matters with Sir Russell Coutts. 
Team New Zealand had been told not to bother to show up to the London meeting but press reports indicate that they will enter by the August 8 deadline.
It is expected that Team Luna Rossa will be named the Challenger of Record after the withdrawal of Team Australia. 
---
The Bermuda Sun bids farewell...
JUL 30, 2014: It marked the end of an era as our printers and collators produced the very last edition of the Bermuda Sun.