July 25, 2014 at 4:00 a.m.
Commonwealth Games: Smith ready for his 'glory days'
Bermuda's medal hope tells the Sun how much a Glasgow podium would mean to him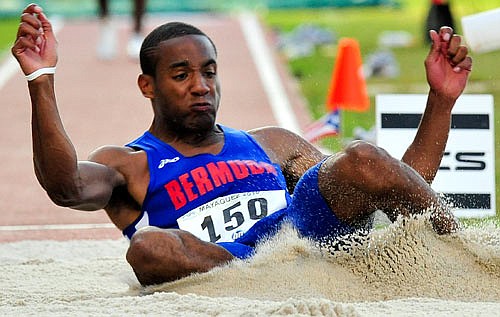 ---
'Sorry,' Bermuda long jumper Tyrone Smith tells The Sun after putting us on hold. 'That's one deal down the drain.'
Such are the demands on the island's Commonwealth Games medal hopeful that he had to close "five deals" in just three days in his day job as a car salesman between returning from competing in Europe and jetting off to Glasgow.
"'I've also got to see my physio, do all my training, so it's pretty hectic but I knew it would be this way," he adds.
The stakes are high for the chatty 29-year-old, who despite flirting with podium success has yet to capture the major Games medal he craves.
He reckons the next three years will be his "glory days" that provide the "cherry on the top of his career".
Self-belief is not a problem but mistake the ease with which he outlines his ambitions as flippant or overly-cocky at your peril. It's clear he has focus ahead of his long jump qualification event on Tuesday (6.05am Bermuda time).
A veteran of two Olympics and three World Championships, the benefits and sideshows of the Athletes' Village no longer interest him. Selfies are out, he confirms: "I'm not a groupie!"
"I will take a few pictures but I'm there to do a job, and have a good time on the track. I'm looking forward to the competition. We train too hard just to go there and party."
He sounds like a man on a medal mission.
He said: "I feel like the next two or three seasons will be my best years physically and mentally — and I definitely feel like they will be my better years.
"The next three years  between now and Rio and the World Championships in 2017 — these are my glory days to formally put the cherry on the top of my career.
"Pressure is something I hear a lot, but for me if an athlete doesn't have hunger then he/she isn't going to be successful. The fact I haven't had that success, that major Games medal, that really motivates me."
Doing so in Bermuda colours would clearly add to that sense of fulfilment.
"When you put the Bermuda kit on to compete and represent our nation, it's the best feeling. I know now I am older there is more expectation on me and I welcome that, and look forward to living up to those expectations.
"I am so looking forward to getting my first major Games medal and getting on the podium with the Bermuda flag."
The standard of this  Games field is that he may well have to jump something around his personal best of 8.22 metres to medal.
Hamstring strains disrupted the early part of the season but he is up to "7.8m-7.9m" and on the rise. He admits he is behind his normal season schedule but is close to ironing out the "technical details". A revised training plan has been designed to have him peak on Tuesday and, should he get to the finals,  Wednesday.
"I'm definitely expecting to be on the podium — whether it's with a gold, silver or bronze I don't know," he said.
"I always aim to win but my first goal is to get to the finals. I think I am going to be in the mix. I finished fifth in Delhi [2010 Commonwealths] and I wasn't in good shape because it took place after the season had finished.
"This time we are bang in the middle and everyone is flying."
Olympic dream
While a Glasgow medal would be defining for Smith, he refuses to lower his ambitions from the holy grail of the Olympics.
"The Commonwealth Games is a confidence booster and a stepping stone to get on the podium at the World Championships and the Olympics. When you get medals at the smaller Games it gives you the focus to do it again at the other ones.
"You have to really use the experience of the Commonwealth Games because it's so similar to the World Championships and Olympics in terms of qualifying rounds and then coming back the next day and doing six more jumps."
Smith sees his experience as vital in terms of dealing with major meets and he will be assisting fellow Bermuda long jumper Arantxa King once his event is over.
Smith said: "My experience is definitely an advantage, just knowing how to calm things down and focus on your jumps.
"In the Olympics and World Championships, there's a big chance you will have to jump a centimetre off your pb just to get out of the first round. You need to be on your A-Game." 
---
The Bermuda Sun bids farewell...
JUL 30, 2014: It marked the end of an era as our printers and collators produced the very last edition of the Bermuda Sun.