July 23, 2014 at 12:09 p.m.
Team sparkle in Dublin
Patton leads the way with superb Gold Fleet display at Optimist European Championships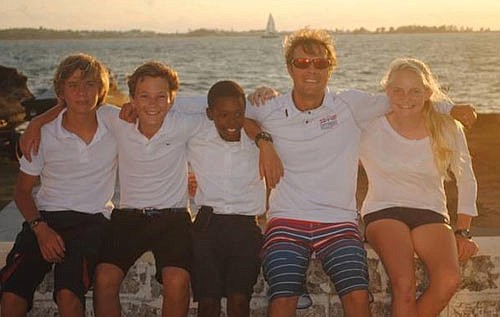 ---
Four young Bermuda sailors competed in the Optimist European Championships in Dublin, Ireland, with Campbell Patton standing out in a highly-competitive international fleet of more than 250 sailors.
The Bermuda Team for 2014 was Campbell Patton, Yannick Hillier, Micah Thomas and Matilda Nicholls. Bermuda veteran sailor Tim Patton accompanied the sailors as Team Leader with Team Coach Robbie Burns from Scotland. 
Patton was 18th in the Boys' Gold Fleet, while Matilda Nicholls was 50th in the Girls' Gold Fleet.
Yannick Hillier 126th and 24th in the Bronze Boys' Fleet, while Micah Thomas was 141st and 39th in the Boys' Bronze Fleet.
The Team were well prepared for the regatta, having spent a week training as part of the BODA High Performance Clinic in Bermuda just days prior to flying to Europe. 
Patton excelled despite having to count two  penalties during the week for minor infractions.
He finished the week  qualifying for the Gold Fleet (top 50 boys) and  notched up four top-10 finishes from the nine races. Had he managed to avoid his penalties he would have finished 11th overall.
This is a remarkable achievement for a sailor who only turned 13 a few months ago.
Proud father and Team Leader Tim Patton said: "Campbell sailed a good week, but some errors cost him some crucial places, at this age this is a great learning experience. 
"This is a long summer of sailing for Campbell and it's been a great start with such strong competition to sail against. We look forward to sailing in Wales next week at the International Regatta in Pwllheli before moving onto the 2012 Olympic sailing venue in Weymouth for the British Championships."
David Hillier accompanied his son Yannick throughout the week, while Micah's mother and Matilda's father Ben Nicholls arrived at the end of the regatta to join the team.
Bermuda's senior Coach Paul Doughty, responsible for BODA Sailor Development earlier this year, was  thrilled with the achievements of these four sailors.
He said: "The experience these young sailors pick up now sets them up for a lifetime of great sailing opportunities.
"The more experienced sailors in Bermuda have been trying hard to focus these kids on a longer-term strategy.
"Optimist sailing is not the pinnacle of the sport, it is just one of the first rungs on the ladder. For Campbell and Matilda to have got into the Gold Fleets of this extremely competitive regatta is a major accomplishment and bodes very well for the future.
"You have to go back many years to find the last time Bermuda had such young talent coming through at so young an age.
"For Yannick and Micah, this was their first major regatta experience in Europe, the world's strongest continent for junior and youth sailing.
"Great things are taking shape, the excellent structure and focus the RYA Learn to Sail scheme has bought to Bermuda together with the RBYC Sailing Academy's focus on 'more and better sailing' is now beginning to show fruit."
RBYC Sailing Academy's Director of Sailing, Tom Herbert-Evans added:  "The many hundreds of kids enjoying sailing lessons this summer are all part of a great process and let's hope more young Bermudian sailors can emulate or even improve upon this success in Dublin.
"This summer many of our more experienced sailors are competing in other regattas including the International Regatta in Wales, various National Championships including Great Britain, Switzerland, America and Canada. 
"Some sailors are also going to the popular New England Championships.
"In October we host the Junior Gold Cup, but at this time a team of five  Bermuda sailors will also head to the IODA World Championships in Argentina. Busy times, but it's great to see so much activity." 
---
The Bermuda Sun bids farewell...
JUL 30, 2014: It marked the end of an era as our printers and collators produced the very last edition of the Bermuda Sun.