July 23, 2014 at 11:07 a.m.
Commonwealth Games: Let's upset the world order
Burch motivated by prospect of proving Bermuda can compete with larger countries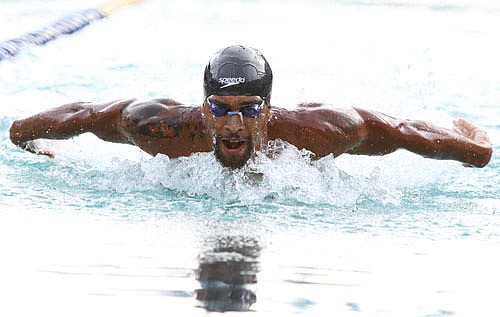 ---
Roy-Allan Burch warned his more inexperienced Bermuda team-mates that they could be "made to feel small" at the Commonwealth Games.

The Charlotte-based Burch, who gets his campaign under way in the 100m freestyle heats on Saturday, is a veteran of the Delhi 2010 and the Manchester 2002 Games, which saw him take to the pool aged just 16.

He feels his knowledge of the pressure and competitive environment expected  in Glasgow will stand him in good stead — and he hopes he can help his fellow Bermudians in Scotland.

Swimming team-mate Julian Fletcher, for example, is making his Games debut.

"Representing Bermuda is always great" Burch told the Bermuda Sun. " Representing a small country is  good and hard at the same time. 

"Sometimes you are made to feel small at these events — you want to be able to show people that we are a country that can compete with the larger ones.

"The hard thing is not being able to draw from the energy from the other people on your team who are performing well.

"For example, the US has a lot of swimmers and the relays. We really have to learn to be by ourselves and be more intrinsic — but I'm used to that now."

Burch says it is amazing to think he was so young when he made his major Games debut 12 years ago. And he admits he was overawed by the occasion.

He said: "It feels like a lifetime ago. When I think back, I did the best I could and bettered my times.

"I remember looking at the sky and thinking 'wow'. It was intimidating. Then I remember meeting Roland Schoeman who went on to medal in the 2004 Olympics.

"It was definitely amazing to do all that at 16.

"It was an amazing venue   — I'd never seen anything like that before with the crowd. And it was there that I saw my first world record broken as well."

Burch, who has also swum at two Olympics, missed 2006 as he dealt with out-of-pool issues. But he rediscovered his love for the sport, as well as his speed, in time for the World Championships in 2009 and hasn't looked back since.

This past year he has been training with some of the best in the world at SwimMAC Elite, including Ryan Lochte, and is in prime form.

"I missed 2006 — I wasn't actually sure I was going to continue in the sport at the time. I had suffered some loss, and was having a hard time generally. 

"I was still swimming for my college but I didn't feel I should be competing internationally and for Bermuda to spend money on me."

He added: "The Commonwealths is a completely different feel to the Olympics, which has much more media and so much more attention. 

"Bermuda always has a bigger team for the Commonwealths, though, which is always a positive and then over the next few years, it's about who can push on to get to the next level." 



Go Bermuda! Commonwealth Games 2014:

• Duffy opts to miss opening ceremony  

• Nervous Murphy into the unknown 

• Full schedule of where and when our athletes are competing

• Profiles of all our 18-strong squad

• See our Commonwealth Games 2014 section for more interviews with King, Franklin, Kyme, Butterfield, Mayho and much more...

---
The Bermuda Sun bids farewell...
JUL 30, 2014: It marked the end of an era as our printers and collators produced the very last edition of the Bermuda Sun.