July 23, 2014 at 11:10 a.m.
Commonwealth Games: Duffy refuses to get lost in the hype
Island's sole female triathlete to skip opening ceremony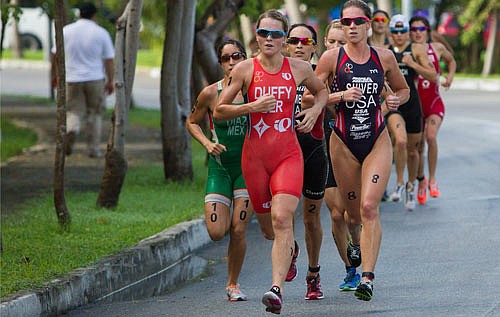 ---
Flora Duffy says she can't afford to waste any energy "waving to the cameras" in today's Commonwealth Games opening ceremony.

The Bermudian athlete has been in excellent form this season and made an encouraging return to the top 18 in a high-class ITU World Series race in Chicago. With the race in Glasgow tomorrow morning, she and at least Tyler Butterfield from the four-man Bermuda triathlon team will not attend the opening ceremony in Celtic Park.

The 26-year-old says that is a shame but is single-minded in her approach to achieving what she hopes will be a top-10 finish.

"The mindset is focus," she told the Bermuda Sun.

"I'll honestly try to be as relaxed as possible. This will be my fifth major Games so I know what to expect in terms of the village, living arrangements, transport, and time commitments.

"It is easy to get lost in the hype of the Games while there, so I like to keep to myself and chill. 

"The opening ceremony is the night before my race so I will be skipping it, which is a huge loss but I am there to perform well, not walk around a stadium waving at cameras. 

"I'll be racing with the Bermuda flags on my suit, instead of walking into a stadium behind one."

With the Commonwealth countries traditionally strong in triathlon, Duffy knows there will be intense competition among the leading group.

But she plans to push hard in her preferred swim and bike disciplines and take the attack to the field.

"My strengths are in the swim and bike," she said.

"It is quite a hard, hilly bike course, which plays to my favour. I will do my best to make the bike as hard as possible. 

"I know there are a few other girls in the race keen to ride hard too, which will help me."

She added: "My race plan is always the same — attack the swim and bike and be as aggressive as possible. 

"That is where my strengths lie so I have to use them. There isn't anyone I will stick close to in the race, I generally tend to focus on my own and not on others."

The 2006 Games in Melbourne were a real eye-opener for the Bermudian. She finished eighth in a sensational performance at the age of just 18.

She told the Sun she is hoping for another "special" result.

"The Games in 2006 were a huge breakthrough for me. It was my first pro race and I was naive and didn't know what to expect.

"There is something to be said about going into a race with no expectations. This year, I am going into the race knowing all of my competitors' strengths, weaknesses and racing styles.

"My preparations have  gone well and who knows? Maybe I can produce another special result. Major games have a tendency to bring that out of athletes."

She added: "I guess there is a little bit of pressure.

"I am the only female [Bermuda] triathlete in the race so it is on me to perform well.

"Though, I think I put the most pressure on myself. I'm very competitive and always want to do my best.

"And there are nerves, of course, but only on race morning. 

"They are good, you need them." 



Go Bermuda! Commonwealth Games 2014:

• Burch vows to unsettle world order

• Nervous Murphy into the unknown 

• Full schedule of where and when our athletes are competing

• Profiles of all our 18-strong squad

• See our Commonwealth Games 2014 section for more interviews with King, Franklin, Kyme, Butterfield, Mayho and much more...

---
The Bermuda Sun bids farewell...
JUL 30, 2014: It marked the end of an era as our printers and collators produced the very last edition of the Bermuda Sun.