July 23, 2014 at 6:32 p.m.
Commonwealth Games blog: Latest news... Fletcher into semis, Duffy 8th, Butterfield 19th, reaction, previews...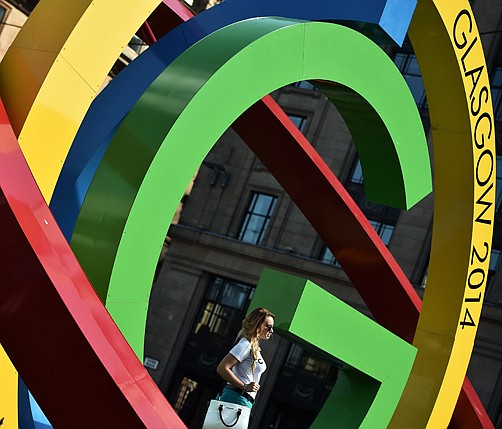 ---
---
4:45pm: 
Ok so there's less than twenty minutes to go until the Commonwealth Games opening ceremony gets under way and we keep our eyes peeled for the Bermuda team entering the stadium.
We'll bring you pictures and reaction as soon as we can from what promises to be a spectacular evening in Glasgow.
Scotland is expected to put on a real show with more than one billion people predicted to be tuning in. Expect, then, the usual mocking and loving in equal measures of our national attire when Team Bermuda appear!
While you wait, here's a sample of the mood in Bermuda and among our athletes at the Games…
The Bermuda Sun kicked things off this morning with this special back page honouring the 18 Bermuda athletes. Squash player Micah Franklin, if you didn't know, is our official flag-bearer for the ceremony.
---
The triathlon takes place tomorrow, with Flora Duffy, Tyler Butterfield, Jonathan Herring and Tucker Murphy all in action. Here's Flora's pic of part of the triathlon course. Should whet the appetite.
---
We got in touch with Tyler Butterfield via Twitter on the eve of his race. Here he is doing some last-minute prep.
We ran a story in which he said this could be his last major Games.
Here's what he said today from the Athletes' Village: "I'm going to try to race hard & enjoy! You never know when it's the end, but these games are motivating to try to do more."


---
We're not sure whether Tre Houston is in Glasgow or not but he did tweet this picture of him getting some treatment ahead of Glasgow.
He's in action first in the 100m heats on Sunday.


---

Our swimmers clearly have too much energy. 
Here's Roy-Allan Burch, Julian Fletcher and coach Ben Smith showing off their moves in the Village.


And here's Roy-Allan and Julian getting snapped by the paps!
---
The Bermuda Sun bids farewell...
JUL 30, 2014: It marked the end of an era as our printers and collators produced the very last edition of the Bermuda Sun.